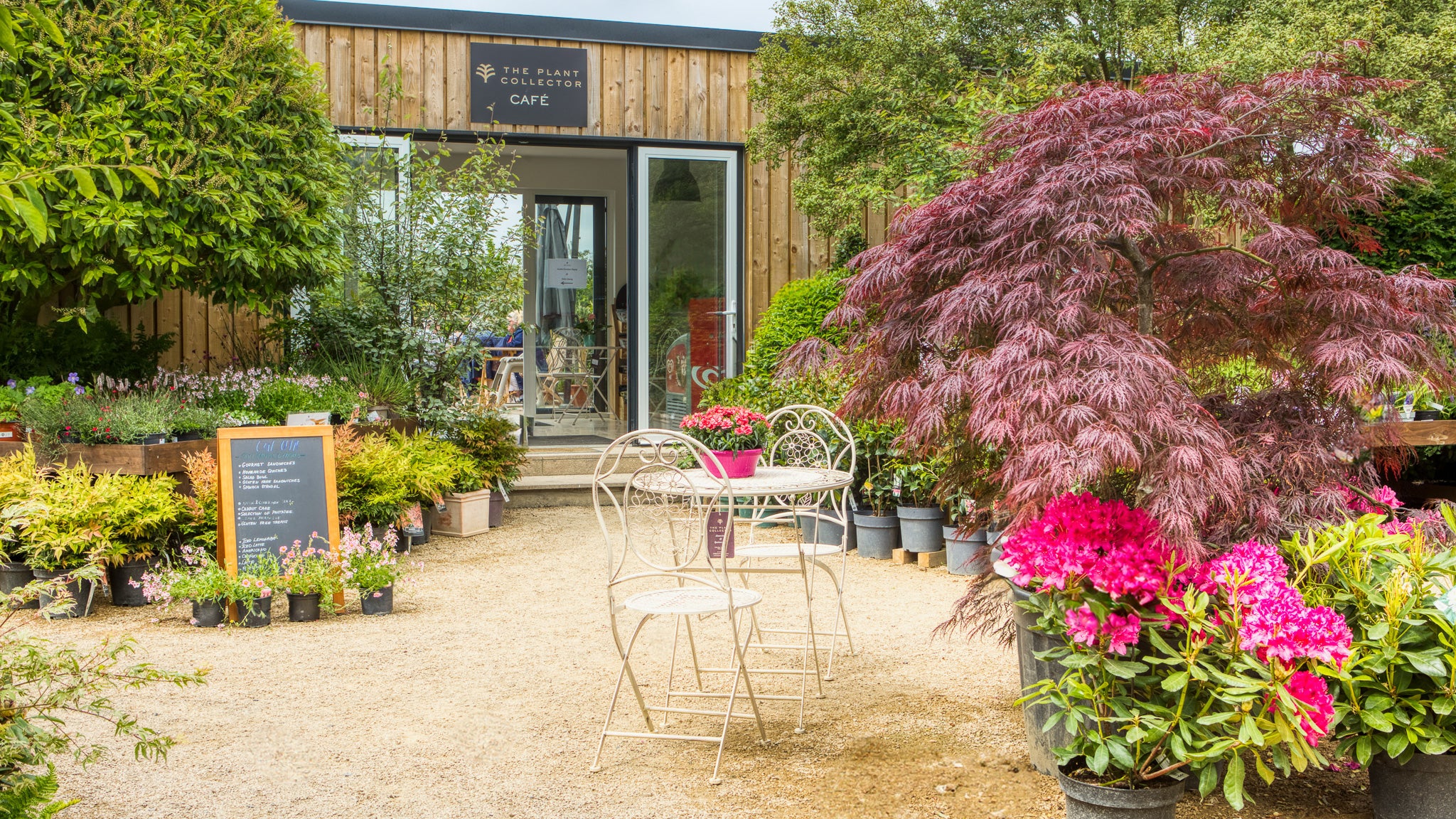 The wild café
Come along to the nursery & explore our lovely café. Hidden amongst the plants, it's the perfect spot to enjoy some specialty, locally brewed coffee, gourmet food and treats while surrounded by nature & wildlife.
VISIT US
OUR MENU
Breakfast

A selection of hand made pastries including croissants, scones, muffins, chocolate chip cookies, pain au chocolat & pain au raisins.

A selection of hand made cakes including carrot cake, apple tart, bakewell, raspberry & almond bake, shortbread, brownies and rocky road.

Sausage rolls including meat & vegan options.

Gluten free pastry options available.
Lunch

A selection of gourmet sandwiches, hand made with locally sourced ingredients and sourdough bread, served toasted. Sandwich choices: Italian Mozzarella, Irish Ham & Cheese, Bacon Buddy, BLT Bacon with cheese, Chicken Pesto, Ultimate Vegan.
Ham & Cheese toastie, Cajun chicken toastie, Gluten free Ham & Cheese toastie.

Organic goat's cheese and spinach strudel.

Sausage rolls including meat & vegan options.

Buddha Bowl Salad, including roasted veg, brown rice, spinach, feta cheese, walnut and orange & olive oil dressing.

Gourmet Wraps : Roast Beef, Chicken Club, Roasted Red Peppper.
We also serve cakes, snacks, soft drinks, hot chocolate, coffee and tea all day.
Our Café
We have lots of gourmet sandwiches to try, all hand made locally with premium Irish ingredients. Our hot drinks include hot chocolate, teas and specialty, locally roasted coffee and are carefully elaborated by our experienced baristas.
SEATING AREAS
We have plenty of indoor & outdoor seating to enjoy your coffee & snacks. We are also able to accomodate large parties such as garden club meetings or similar events. Do not hesitate to ask!
The DECK
Sit on the deck overlooking the pond & enjoy fresh air, views of our plants and all the wildlife living in our nursery. If you're one for some bird watching, this is your spot!
THE POND
Right beside the deck and surrounding our pond is a lovely patio area. Here you can relax by the water and enjoy the sun, the sound of the water feature and hear the birds chirping. Maybe you can also spot our turtles peaking out of the water or sunbathing on the rocks!
THE BENCHES
As you wander around the nursery, you may come cross lovely benches tucked in little nooks around the pond and amongst the trees. Perfect for enjoying a tranquil cuppa!
The furniture tunnel
A fully covered 26 metre seating area with a display of our range of garden furniture. Here you'll be able to relax in a warm, cozy space & test out our outdoor furniture collection, fully protected from the rain & the elements.
THE CAFE
You can also find covered seating inside of the café. From here, you can enjoy people watching and the lovely ambiance and buzz of the cafe. Maybe even browse our selection of local and irish products!
THE COURTYARD
Have a seat amongst the trees and the plant displays as if it was your own private garden!
OUR COFFEE & LOCAL PRODUCE
Our lovely, little café has a lot to offer. It's a hidden gem tucked away within a large collection of mature trees and lovely flowering perennials. When you visit us, you'll be able to enjoy a quiet meal and a hot drink while surrounded by enchanting nature and wildlife.
All our produce is locally sourced, supporting small local businesses and promoting Irish produce. Our specialty coffee is by Creed Roasters, located in Celbridge town.
Our Staff
Meet our friendly, experienced baristas and lovely nursery staff. We are all dedicated to providing the best customer service and quality produce, as well as to creating an enchanting space for you to enjoy. We are delighted to welcome you onto our nursery and café every day.